Custom Binding
| | |
| --- | --- |
| This book is a present for my nephew's wedding. From the outside, it looks like a common French/English dictionary, with some blind tooling (decoration without using gold) on the raised bands. However, I inserted in the inside of the top cover a picture of his wedding, with the date of the unforgettable ceremony. This makes a wonderful and highly personal wedding present. This custom binding can also be used for bar mitzvahs, communions, graduations, retirement and countless other memorable occasions. | |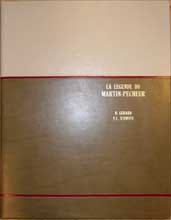 This book is a successful attempt at reproducing an art deco binding, using leathers of different colors and strips of red onlays. The book is the Légende du Martin-Pêcheur (Legend of the Kingfisher) written by R. Gérard and illustrated by the art deco master François-Louis Schmied. More on this illustrator in the Art Nouveau/Art deco binding gallery.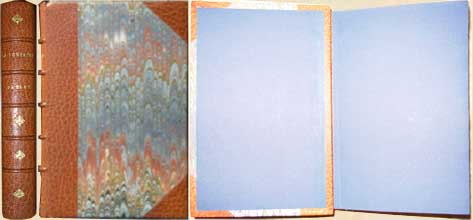 This book is dear to my heart. It is the first binding I completed while a student of Paule Ameline's, an award-winning master binder in Paris, France. It is a copy of La Fontaine's Fables illustrated by J.-J. Granville. This is a ¾ morocco binding with leather hinges in the inside for added strength and marbled paper on covers. A binding with leather only on the spine is called a ½ leather binding (see book in workshop gallery). If leather corners are added, it becomes a ¾ binding. If made of only leather, it is called a full leather binding. Paper marbling is a method which produces patterns similar to marble. The patterns are the result of several colors floated on either plain water or a viscous solution and then carefully transferred to a sheet of paper. This decorative material has been used to cover a variety of surfaces, particularly book covers and endpapers. Examples of marbled paper are used throughout this site as background.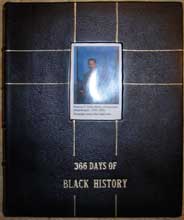 This book is titled 366 Days of Black History. A picture of Reginald F. Lewis, lawyer, entrepreneur and philanthropist, is inserted into the cover. In 1987, he acquired the food giant Beatrice Foods. He passed away too young in 1993 and the company was taken over by his wife, Loida Nicholas Lewis. The Reginald F. Lewis Museum of Maryland African American History and Culture opened in 2005 to honor his memory.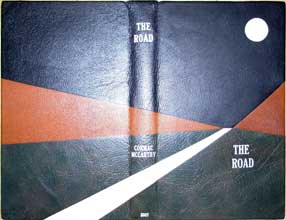 This is a bound copy of Cormac McCarthy's best seller The Road. The Road is set in a post-apocalyptic world of ash and cold. In this forsaken land, a man and his son travel towards the sea. I represented this desolate and dark area with leather of cold colors, black, brown, greenish grey inlays. The love between father and son is strong however and conjures up hope. This optimism is represented by the road, almost white under the cold light of a full moon.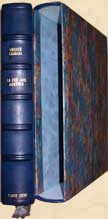 This picture shows a slip case. The case protects the book while showing the spine. If needed, the case can be lined with a felt like material in order not to mar the book covers.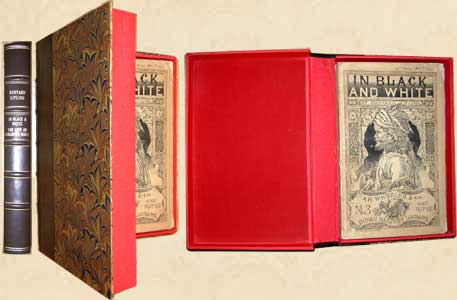 When the books are exceptionally fragile, a clam shell box is constructed. Once the box is closed, the books are sealed within. This box houses two of the first books published by Rudyard Kipling in India: In black and White and The City of Dreadful Night. They are rare and their paper covers particularly brittle. This box has also been lined with felt. Notice the beautiful marbled paper on the covers. The spine may be made to look like a book, as shown.
Other documents can be bound, such as theses (copy of my brother-in-law's shown here), journals, scrap-books or any other loose-leaf documents as shown in the workshop gallery.