About Me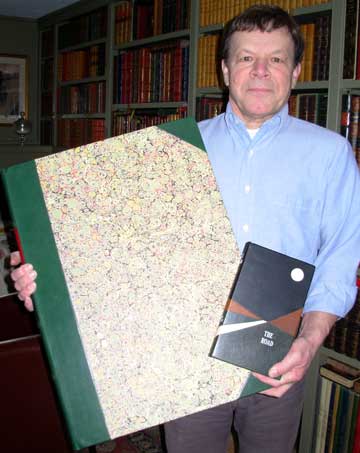 My name is Paul Belard. I learned the art of bookbinding in Paris in the late 70's at the shop of renowned French bookbinder Paule Ameline.
I have been practicing fine bookbinding, repairs and restoration in the USA since 1980.
I am also a book collector whose interests are nice bindings (art deco, art nouveau, inlaid bindings), explorations, American civil war, books with steel engravings, History, fore-edge paintings, books with original works by illustrators.
Press: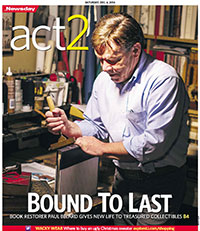 December 6, 2014 Long Island Newsday
References:
Hundreds of individuals interested in book binding, repair & restoration
Complete Traveler Book Shop, New York City
D. Von Bothmer, Curator of Metropolitan Museum of Art
Nelson Doubleday, Editor and Owner of the Mets
Bob Brier, American Egyptologist & Senior Research Fellow at CW Post
CW Post Library, Special Collections
R.F. Lewis Museum of African American History, Maryland
Pat Conroy, Author (Prince of tides, Beach Music, The Great Santini). See note below.
Carnegie Corporation of New York
Seawanhaka Yacht Club, Oyster Bay, NY
Association of Descendants of the Mayflower
Book Revue Book Store, Huntington, NY
Strathmore Vanderbilt Country Club, Manhasset, NY